All about the 2019 Scout Tour – South Texas Specialties Tour.
The Birding Ecotours scout trips are designed to provide our guides with the opportunity to re-familiarize themselves with the area, learn about new parks and hotspots, and check in on some of our most successful birding locations from past tours. To provide more opportunities for birders to experience the amazing birds of the United States, Birding Ecotours is now offering the opportunity to join our guides with the new "Scout Tours".
Beginning with the 2019 "Texas Spring" Scout Tour, you can join the Birding Ecotours guides as they spend eight fast-paced days in south Texas scouting for our exceptional full-featured tours!
A visit to King Ranch kicks off the tour as you and the guides get acquainted with the staff at the ranch, see Ferruginous Pygmy Owl, and search for Tropical Parula. Then we will be heading to the Lower Rio Grande Valley to get up to date with the best spots for such specialties as Aplomado Falcon, Plain Chachalaca, Altimira Oriole, Audubon's Oriole, both Ringed and Green Kingfisher, and all of the other local targets. We will explore iconic locations, such as Laguna Atascosa, Estero Llano Grande State Park, Resaca de la Palma, and the unforgettable Santa Ana National Wildlife Refuge.
The group will then venture west and north to find the best current locations to see Morelet's (White-collared) Seedeater, Golden-cheeked Warbler, and Black-capped Vireo. We will wrap up our Scout Tour back in Corpus Christi, taking the last day to enjoy spring migration and to check in on the endangered Whooping Cranes at Port Aransas. Considering the fast pace and the determination of our guides, we expect to see more than 200 species of birds during the 8 days of scouting – hopefully including a rarity or two!
During the tour, the guides will be on the lookout for the best places to eat and which hotels are up to the high standards of our traditional tours. There will also be plenty of great photography opportunities as they capture more of the incredible photos you see on our website.
We will take a maximum of six participants. On rare occasion we may extend the maximum to ten participants.
Duration: 8 days
Limit: 3 –6
Date: 30 March – 6 April 2019
Start: Corpus Christi, TX
End: Corpus Christi, TX
Price:
US$1829 per person sharing assuming 3 – 6 participants
Deposit: US$500
Single supplement: US$357
Please note that the detailed itinerary cannot be guaranteed as it is only a rough guide and can be changed (usually slightly) due to factors such as availability of accommodation, updated information on the state of accommodation, roads, or birding sites, the discretion of the guides and other factors.
The tour package inclusions and exclusions at a glance
What is included in this tour?
Items that are included in the cost of tour price.
Accommodation
Guiding fees
Entrance fees
All transport while on tour
Tolls
Whats not included in this tour.
Items that are not included in the cost of tour price.
Meals
Domestic and International flights
Items of a personal nature, e.g. gifts
Alcoholic drinks
Personal insurance
Laundry Service
Gratuities
Day 1

Arrival in Corpus Christi

After arrival at Corpus Christi International Airport (CRP), expect to do some light birding in the surrounding area before getting dinner and heading to the hotel. We ask that your flights arrive no later than 3:30pm in order to get that little bit of first day birding in. Arrival times will dictate where we will be birding day 1. We will call it a night early so we can rest up in preparation for an epic day 2!

Overnight: Kingsville, TX

Day 2

King Ranch

We will need to be up and ready very early to start day 2. After meeting up with some folks from King Ranch, we will be following them south to their property in Norias, where they will guide us around for the morning. This section of their property plays host to two of the rarest breeding birds in North America, Ferruginous Pygmy-owl and Tropical Parula. After spending the morning in their amazing live oak savannahs, we will head down to the Lower Rio Grande Valley. Our main stop will be at Laguna Atascosa National Wildlife Refuge, a 98,000 acre refuge that is vital in the survival of many different species including Aplomado Falcon and Texas Ocelot. Depending on time, we may make a few brief visits to other stellar locations before calling it a day.

Overnight: Brownsville, TX

Day 3

Lower Rio Grande Valley

Today we will be hitting many of the amazing parks and reserves of south Texas along the Rio Grande. Many of the amazing and special birds of Texas call this region their home so expect an action-packed day. We will head to Estero Llano Grande State Park in the morning which hosts a great diversity of habitats. Targets here will be numerous and include the likes of the colorful Green Kingfisher, the rambunctious Great Kiskadee, the secretive Clay-colored Thrush, and the odd Plain Chachalaca. From here we will explore a few other world renowned locations like Frontera Audubon, Santa Ana Wildlife Refuge, Bentsen, Sabal Palm Sanctuary, and Resaca De La Palma. Our needs list will likely play a role in deciding which of these fantastic locations we visit and spend the bulk of our time in. We will be scoring valley specialties all days like Buff-bellied Hummingbird, Ringed Kingfisher, Common Pauraque, Least Grebe and so many others. We will finish the day in the McAllen area as we track and chase down the roosts of Green Parakeet and Red-crowned Parrot.

Overnight: McAllen, TX

Day 4

Lower Rio Grande Valley to Falcon Dam

The morning will be spent as a clean-up chance to pick up any of the valley targets we missed the day before. It also gives us a nice opportunity to explore the last few parks we missed before we start to venture more north along the Rio Grande towards Falcon Dam State Park. As the trees become more sparse and restricted to the river's edge, we begin to see a more arid scrubby habitat. Pyrrhuloxia and Verdin prefer this habitat shift, as well as the handsome Black-throated Sparrow. We will also be making a stop at the Salineno Bird Feeders, a fantastic location for Altamira Oriole and Audubon's Oriole as well as many other species.

Overnight: Laredo, TX

Day 5

Laredo to Hill Country

We will spend the morning in the Laredo area hunting down Morelet's Seedeater as it forages in the Arundo grasses. From here we begin our trek into the hill country of Texas. It is in this area of small rolling hills composed of limestone that the birds of the east and birds of the west overlap. Here we might see examples of Black Phoebes and Canyon Wrens singing alongside Eastern Phoebes and Carolina Wrens. This is fascinating to witness but of course the real reason this area is well known is for the federally endangered Golden-cheeked Warbler. We will spend the rest of the day exploring this diverse region as we search for the special warbler.

Overnight: Uvalde, TX

Day 6

Hill Country

We have the entire day to explore the hill country of Texas with its nice mixture of junipers and shrubby oaks as we enjoy this unique habitat. Black-capped Vireo, along with the warbler, comprises the other half of the rare and endangered birds of this region. We will be on the lookout for these as they sing in the morning sun on the hillsides, fresh from arrival to their breeding grounds. From here we will start our journey back east towards Corpus Christi with the potential for a few stops to snag birds like Rufous-crowned Sparrow and Woodhouse's Scrub-Jay.

Overnight: Corpus Christi, TX

Day 7

Whooping Cranes and Migration

Our final full day shall be spent enjoying the wonders of spring migration on the Texas gulf coast. Having been dubbed "America's Birdiest City" since 2003, Corpus Christi is a prime location to experience the large movement of Eastern songbirds like Worm-eating Warbler and Hooded Warbler. The morning hours shall be spent at a few of the local migrant hotspots like Paradise Pond and Packery Channel Park. The rest of the day will be left to explore Mustang Island State Park and the Port Aransas area as we seek out the endangered Whooping Crane. This area is the one of the only wintering grounds left for this large and magnificent bird and we will be there just in time to catch them before they start their journey north to breeding territories.

Overnight: Corpus Christi, TX

Day 8

Heading Home

Depending on everyone's flight times, we will do some brief morning birding at nearby migrant traps to see what new birds the winds blew in. After that, we will transfer over to Corpus Christi International Airport and the tour will conclude.
Tours: Alaska, Arizona, California, Colorado, Florida, Maine, Minnesota, New Mexico, Texas, Wyoming, Birding Ecotours (Worldwide)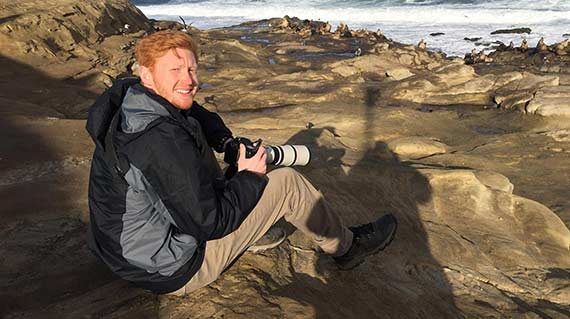 Tours: Alaska, Arizona, California, Colorado, Florida, Maine, Minnesota, Ohio, Texas, Birding Ecotours (Worldwide)